Moontree Yoga & Wellbeing was born out of a desire to create a place where women can be themselves, enjoy me-time and learn to nurture themselves in a non-competitive, non-elitist environment.
We are more than just a yoga class, we are a community! We are women like you – REAL women who simply want to take some time out of their busy lives to relax, stretch and unwind. We don't care if you can or can't touch your toes, just that you have the space to be YOU.
Sarah Liddell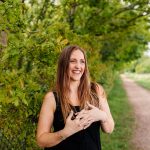 Hi! I'm Sarah, the founder of Moontree Yoga & Wellbeing. I am a yoga-obsessed, pizza-loving, Netflix-watching, normal human being who is highly trained in yoga and all things women!
I live in Manningtree with my husband and beautiful twin daughters, Isabella and Isla. For over 20 years I have used yoga to keep me sane, reduce anxiety and balance my life alongside a busy corporate job.
I have a deep passion for the benefits of yoga and women's health and recently took the plunge to focus on my desire full time, leading to the birth of Moontree Yoga & Wellbeing! I believe in kindness, compassion and that a little wine catch up with good friends is just about the best thing I can do for my soul!
Qualifications
Over 400 hours of accredited yoga teacher training including prenatal, postnatal, baby and toddler yoga and baby massage
Qualified Birth Rocks Mentor (Hypnobirthing and birth preparation)
Becky Grimwood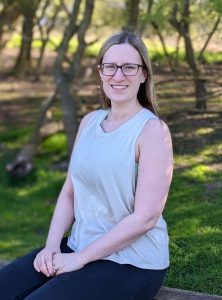 Hi, I'm Becky! I live with my family in West Bergholt and I am so happy to be sharing some of the Moontree magic with this side of Colchester and the Dedham Vale. I am also a school teacher, running coach and lover of chocolate, naps and singing along to cheesy songs in my car!
After dabbling with yoga on and off throughout my adult life, my real love for it began when I became pregnant with my son. Yoga taught me how to find myself and allow time for myself, at a time of great uncertainty and vulnerability for me. It quite literally taught me how to breathe - through pregnancy, labour and beyond into life as a parent.
Through my training and personal practice, I have developed a deeper understanding of the benefits of yoga for 'the whole' - for emotional, mental, physical and spiritual health. To have the opportunity now to share this with others, is truly a blessing and a joy. I learnt that it didn't matter that I couldn't stand on my head or that I wobbled when I balanced. Yoga held space for me - and can do for you too.
Qualifications
200 hours Yoga Alliance accredited yoga teacher training
65 hours Prenatal & Postnatal training, including baby yoga